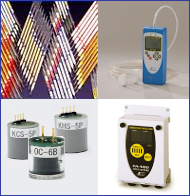 The history of Kitagawa is the history of Detector Tubes.
KITAGAWA GAS DETECTOR TUBE SYSTEM began in a small hydrogen sulfide detector tube for quality control, and have explored the field of GAS DETECTOR TUBE SYSTEM since then.
All through its history, we have put heavy efforts to research and development in order to achieve high quality, sensitivity, and accuracy. There are numerous characteristics to our method which cannot be seen in others, and our products are utilized in various fields.